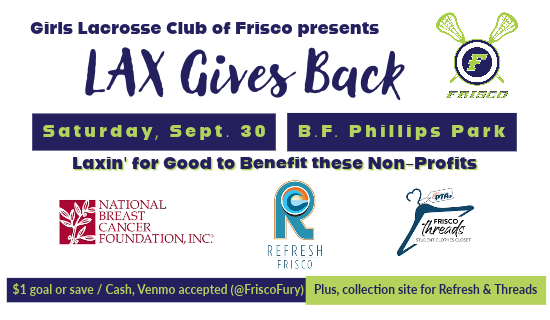 EVENT MAP (PDF):

LAX GIVES BACK CHARITIES
Each fall Girls Lacrosse Club of Frisco invites our fellow North Texas teams for a play day where we Lax for Good! We fundraise for charities near to our heart. Money collected during the 2023 event will be evenly distributed to three non-profits.
National Breast Cancer Foundation
NBCF was founded to fill in the gaps of cancer care, ensuring every woman has the access and information she needs to get through every step of her breast cancer journey.


Refresh Frisco
Good hygiene is essential for a child's health and self-esteem. Refresh Frisco's mission is to ensure that every child in our community has access to basic personal hygiene items.


Frisco Threads
Provides clothing to Frisco ISD students in need, to instill comfort and confidence, and ensure they are dressed for success. They collect sizes youth 3T to adult XXL.

We'll also have a collection point set up for Refresh Frisco and Frisco Threads. Check out the links to see the accepted items, and please drop to the donation tent before your game starts:
PARENTS AND GUESTS are encouraged to contribute $1 per goal at each game. Goalie families, you may want to donate a $1 per save, instead. Fury players will volunteer to walk along the sidelines to collect money a few times during the game.
There are two ways to donate:
CASH: Have dollar bills with you or be ready to donate a big bill. We won't be able to make change.

VENMO: You can also send your donation via Venmo. Please send your total donation amount to @FriscoFury and list in the comments LAX Gives Back donation.
You can also stop by and see us at the Event HQ tent if you'd like to make a donation or need help with finding the Venmo account.
FIELD MAP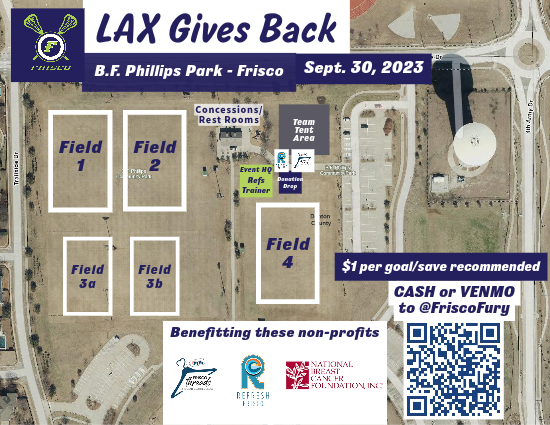 ---------------------------------------------------------------------
FURY VOLUNTEERS NEEDED! [ SIGN UP to Volunteer at LAX Gives Back]
Fury Family - please HELP!
Will you consider volunteering for a time slot or two next Saturday, Sept. 30, for our LAX Gives Back youth play day?
Consider working one or two of the games with your daughter, before or after her games. You can serve as the donation manager or score keeper while she collects donations. We'll confirm service hours for any student who volunteers.
Volunteer Roles
All volunteers should check in at the HQ tent when they arrive for the day to verify field assignment.
Donation Runner
Who: youth or HS players
Job: Use decorated lacrosse sticks (provided) to run the spectator sidelines collecting money following each goal or save. We're asking K-2s & 3/4s to sign up for Field 3a & 3b. The 5/6 & 7/8 teams should sign up for a slot for Fields 1, 2 and 4.


Donation Manager
Who: parent or coach
Job: Keep an eye on cash collection. Donations runners turn the cash from each run into the manager. Donation managers provided a bag to hold cash. Bring the cash to the HQ tent following a game. We're asking K-2s & 3/4s to sign up for Field 3a & 3b. The 5/6 & 7/8 teams should sign up for a slot for Fields 1, 2 and 4.

Scorekeeper
Who: Parent or HS players.
Keep up with the score, flipping the chart after each goal. Fields 1, 2 & 4 only.
[ SIGN UP to Volunteer at LAX Gives Back ]